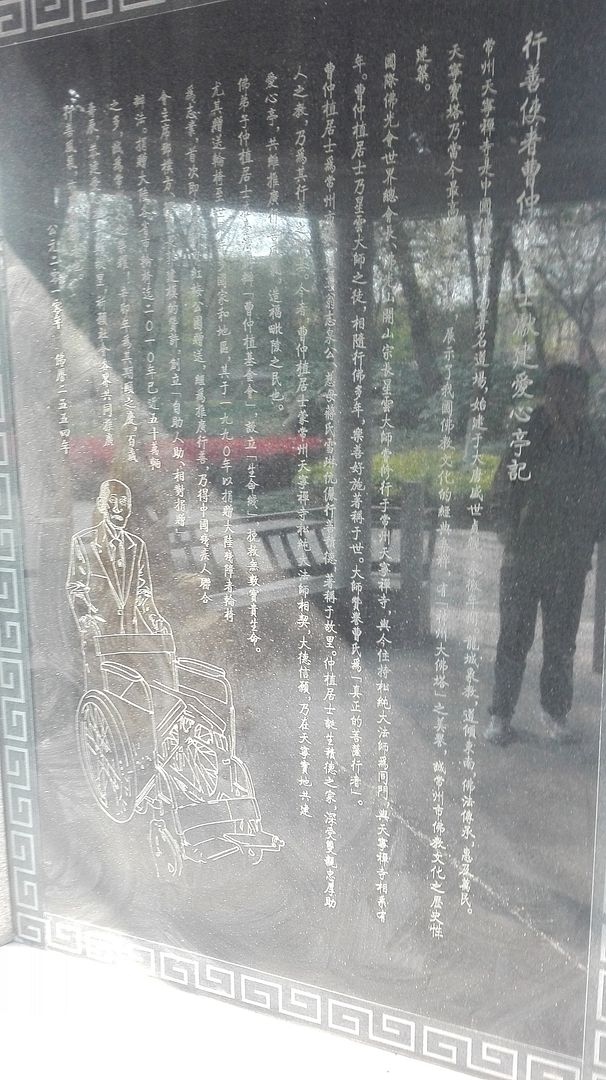 When you are a foriegner in Changzhou, you sometimes get stopped by curious Chinese people who want to practice their English. Usually, I will oblige for a short and polite conversation. Depending on what I am doing, I might try to turn this into a "win-win" situation. If I am out looking for things to blog about, I will rather craftily ask them to translate something for me. This was the case a few weeks ago.
I was at Tianning Temple in Hongmei Park. At the time, I was looking at Guanyin "goddess of mercy" statues. A middle schooler stopped me, and after the standard "Do you like Chinese food" questions, I pointed at a nearby gazebo. Inside, a figure of a man pushing a wheelchair "Can you tell me who that is?" He struggled a bit.
"Famous man with big heart," was all my new friend could manage. "I don't how else to say in English."
"Can you write his name for me?" I handed him my phone. He typed out 曹仲植 Cao Zhongzhi into my dictionary. I saved it for later research.
Turns out, Cao was a famous philanthropist. While originally hailing from Changzhou, he moved to Taiwan. Once, while returning to visit family in 1969, he saw a disabled man and became moved by his situation. So, he set up a charity that donated wheelchairs to the needy.
Once I read the story — badly machine translated from Chinese by Google, of course — the location of the his marker made a lot of sense. In both Buddhism and Taoism, Guanyin is considered a figure of mercy and compassion. To a lot of disabled people in China, Cao Zhongzhi was a humanitarian who embodied those qualities. It is fitting to to draw this juxtaposition by placing him in a garden dedicated in Guanyin's honor.