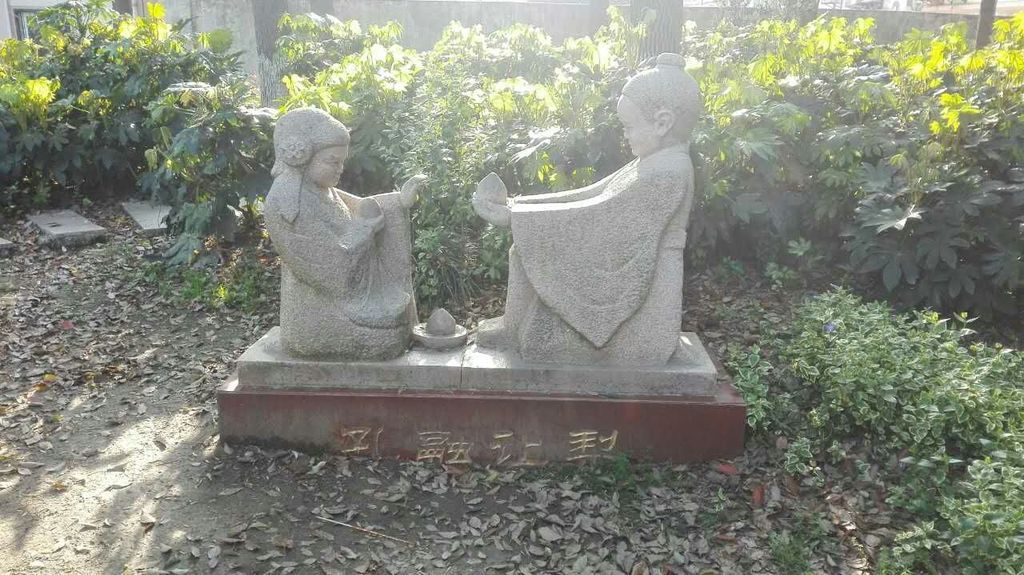 The Chinese is 孔融让梨, or in Pinyin without the proper tone markers: kong rong rang li. If you translate the characters verbatim, you get "Kong Rong yeild pear." In the picture, you can barely make out the characters, but I sent the photo to a Chinese friend who is native to Changzhou's Jintan District. Turns out, many Chinese people could probably figure this out, due to how famous the expression is.
Kong Rong was both a scholar and a descendant of Confucius. His literary achievements likely outlive his acts as a minor warlord. Once, he spoke ill of Cao Cao, a Chancellor of the Eastern Han Dynasty. Both Kong Rong and his entire family were executed as a result, and their corpses were left in the street As ancient Chinese history goes, this was during the Three Kingdoms period. The killing of the family is strangely a reminder of a different part of Chinese culture.
Family is important in The Middle Kingdom in a way it just isn't in the west. Honoring your father and following his orders are paramount. That's filial piety, two English words seldomly used in the USA or UK. But it even gets into sibling hierarchy. Younger brothers are supposed to respect older brothers — the same with older sisters and younger sisters.
As legend goes, as a boy, Kong Rong would only pick up or pick small pears to eat. This would be from or around the trees near his home. Why? He felt it was his duty to leave the plumper, juicier fruit for his elder brothers. Hence, 孔融让梨, or "Kong Rong yeilds pears."
As for this sculpture, it's in Jintan's Hua Luogeng Park 华罗庚公园. It's one of three statues dedicated to Chinese idioms. The park itself is in walking distance from the long-distance bus terminal.