Somethings in Changzhou are hidden in plain sight, and this definitely the case for Qianguo Lane 千果巷. It's right next to Nandajie, which is the busiest area in the city center. Even more so, it runs parallel to the bar street where all the dance clubs are located. A Walmart, a Starbucks, and a McDonald's are also across the street. I happened upon this because I was at Micky D's, saw how crowded the place was, and got my Big Mac as take out. I walked across the street thinking I sit on a park bench and eat my lunch.
The hamburger was, of course, unsatisfying, as McDonald's usually tends to be. Afterwards, I went for a walk. There is a small canal here that's an offshoot of the famous Grand Canal 京杭大运河 — which runs from Beijing to Hangzhou, and it basically cuts through Changzhou's downtown.
There are two bridges here in the ancient style. In looking at them, I noticed historical markers. Quickly, I snapped photos of them and sent them to a Chinese friend. Thankfully, he read them, summarized them for me. During the Ming Dynasty, an official named Hu Ying built a house on a wharf. Another bridge inspired a Tang Dynasty era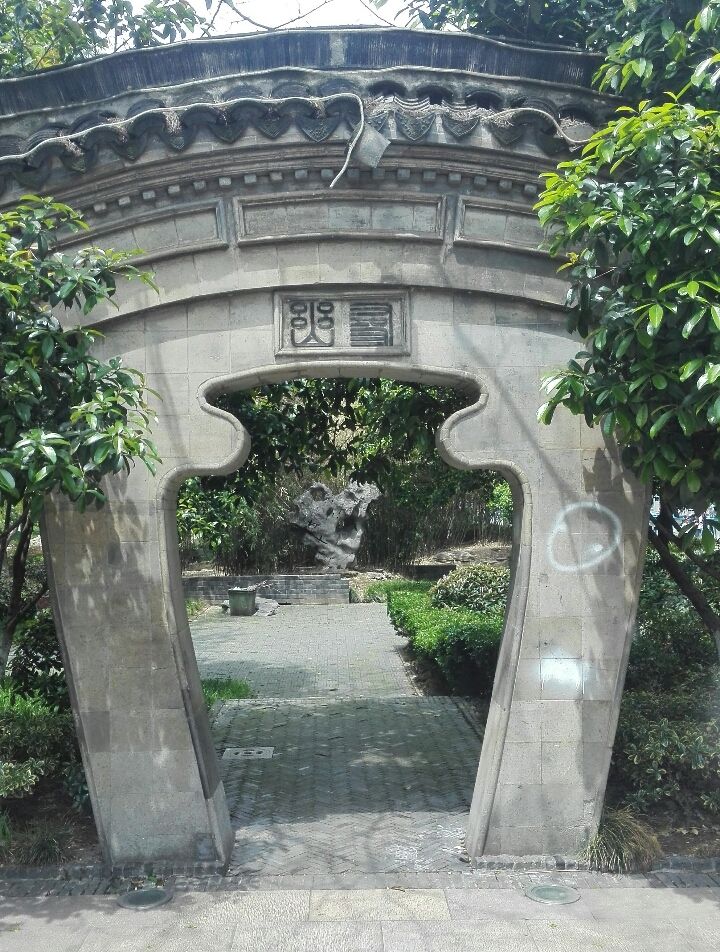 poem, which is written on the marker itself.
In this small area, there are three walking routes to be had. Two are on both canal sides. Another is a narrow, subtly winding foot path. This is the one closest to the bar street. that makes up the southern edge of the Landmark Mall in the greater Nandajie area. Here, you can find a few benches like where I ate my lunch. You can also find bamboo and the large, weathered, water-eroded rocks that seem popular in this region as public sculptures.
Nandajie — the road itself — cuts this area in half. Once you cross the street, this small canal area continues on for a bit. There is large rock here with 千果巷 in the ancient, reversed reading order of 巷果千. The rock itself, my Chinese friend reported, also has a blurb about a cannon crafted during the Ming Dynasty.
Something more curious caught my attention behind this rock. There stones with symbols on them that I couldn't understand. Since my friend was so generous with his help, I didn't want to pester him anymore. So, I took to Wechat and posted photos. My thoughts, possibly, were that these were some sort of old, oracle bone Chinese characters. I was dead wrong.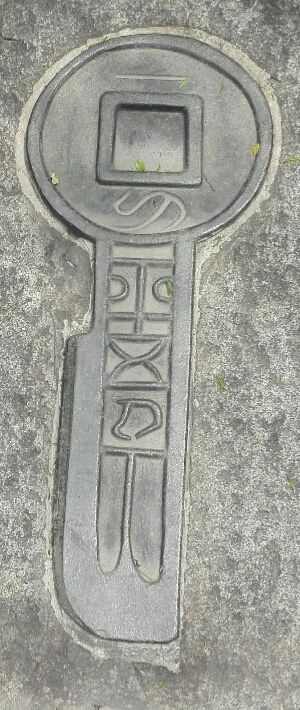 A host of Chinese friends, via social media, nearly immediately informed me that these are representations of ancient money. Before unifying into one nation, China used to be seven kingdoms. Six of them eventually went down to defeat, as the Qin consolidated everything and everyone into an empire. Each of these seven states had their own form of currency that cam in irregular shapes. I should have expected this because the more familiar, round ancient coin design were placed in the ground amidst polished and black river stones.
Thousands of years later, and it seems fitting, given its location. Nandajie is the commercial center of the city. There are a lot of shops, boutiques, restaurants, and more here. A lot of money is spent here, and these carvings are a subtle reminder of that.