This was originally published in 2016. It no longer exists. Reposting this because it was just a surreal place.
This popularity can be seen first hand in Changzhou. A Xinbei cafe bares a distinctive theme. Even down to the name: Mr. Bean Coffee. Inside the cafe, one can see pictures of Atkinson in his grey suit, but also weird, and rather surreal, portraits of the character on the wall. Other depictions range from cartoonish to semi-life-sized. There's even a photo of him by the entrance, ushering a patron in.
Sitting and drinking espresso in Mr. Bean Coffee is just an odd, surreal experience. It's not unpleasant. It's just strange. But it raises other questions. Is this a case of copyright infringement? Does Atkinson profit from all these kids sitting around in his cafe while eating cake? It's easy to lob "violating intellectual property" charge at businesses in China. After all, you don't have to look for in Changzhou to find unlicensed uses of Micky Mouse. This isn't one of those cases. Mr. Bean Coffee. The cafe is a chain. And it does have a license with Tiger Aspect. In theory, Atkinson should be seeing profit from this.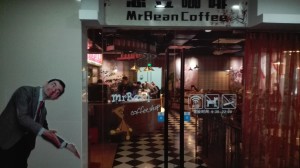 In Xinbei, Mr. Bean coffee can be found on a sunken, but open-air basement level of the Changzhou TV Tower complex. It's the same urban block that's home to a Lafu supermarket and a Secret Recipe Malaysian fusion restaurant. Mr. Bean is the neighbor to an Internet / computer gaming cafe. Wanda Plaza is in walking distance.
Yet, despite all of these location details, one fundamental question has not been addressed. How is the coffee? Not very good. Usually, I only buy Americanos at cafes. That's because no business ever makes a simple pot of coffee in China. And I have no interest in drinking lattes or other types of liquid desserts. So, my judgement comes on the watered-down espresso shots alone. Starbucks is a lot better. The only reason to visit Mr. Bean Coffee is gawk awkwardly at its novelty.