This was originally pusblished in 2017.

Dare to pray benevolence, less thanks to mercy. Chen see one side to go to Nanjing since, waiting for the purpose of the DPRK. Do not take the day.

— Definitely Not Su Dongpo
Su Dongpo 苏东坡, often considered one of the greatest poets of the Chinese language, did not write the above quote. It would be beyond absurd to suggest that a noted writer and artist of the Song Dynasty could foretell of the Democratic People's Republic of Korea (DPRK), aka North Korea. No, this is something that became garbled into English once I copy and pasted the Chinese characters of his article 乞常州居住表 Qǐ chángzhōu jūzhù biǎo into Google Translate. Since it was beyond incomprehensible and impossible to Google in English, I showed this short text to a Chinese colleague and asked him for a general summary. Even he, a university professor and native Chinese speaker, had a hard time reading it. Ancient versions of Chinese doesn't use compound characters the way the modern language does. A lot of Su's pictograph choices are simply not used anymore. Put it this way: Su Dongpo's Chinese is very antiquated, much the same way Geofrey Chaucer's Middle English is impossible to fully comprehend by a modern speaker.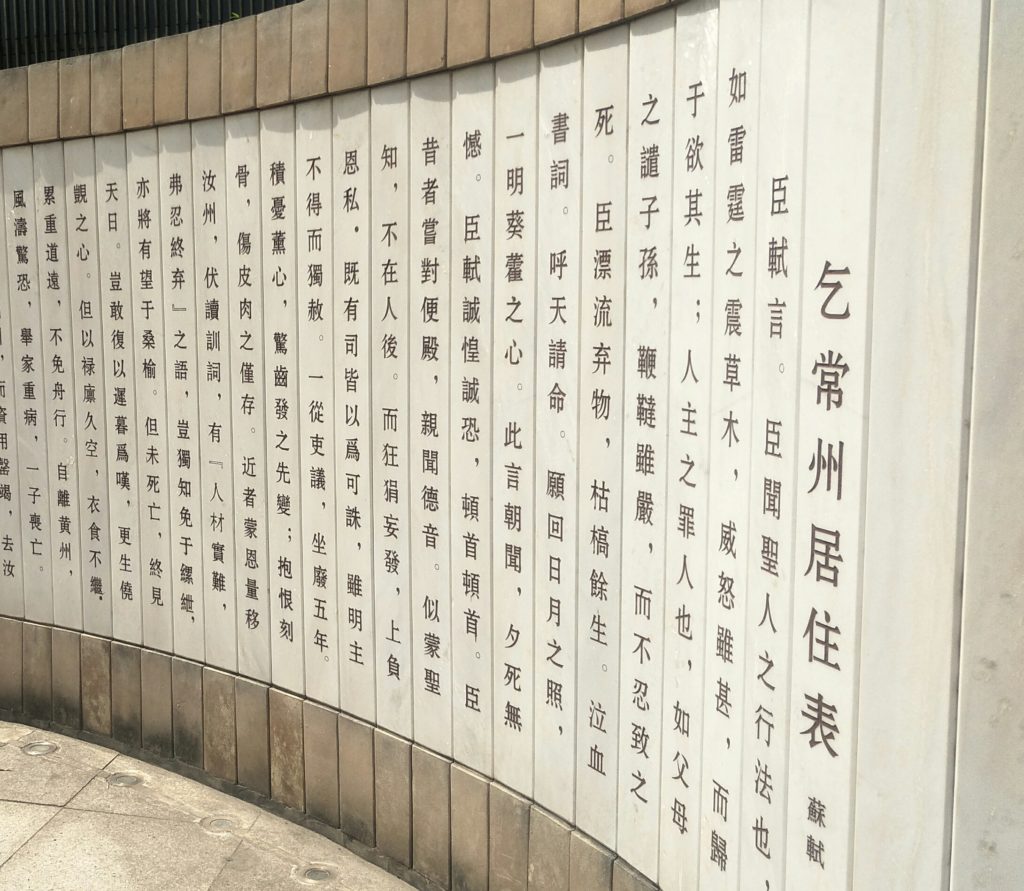 Su's text, whose title could be loosely translated as "Request to Live in Changzhou," captured my curiosity recently because of a monument in Xinbei. Specifically, it's in town of Xuejia 薛家镇. This is a town out west of the greater Wanda area most expats know and associate with the name "Xinbei." It is a stone wall shaped to look like an old bamboo scroll with vertical lines of text meant to be read from up to down and from right to left.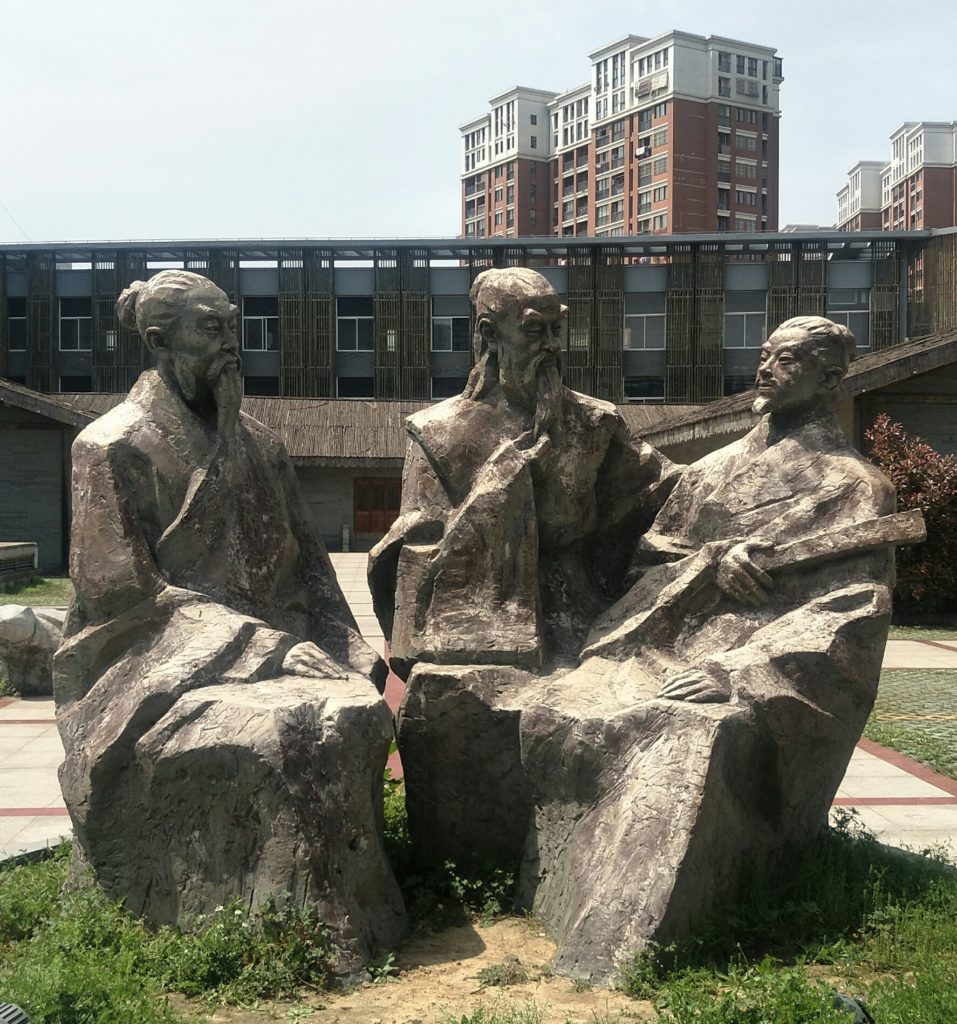 The wall itself seems to be part of a greater cultural plaza dedicated to the memory of this great writer and artist. But there seems to be another thing, and this seems common to Changzhou, sometimes.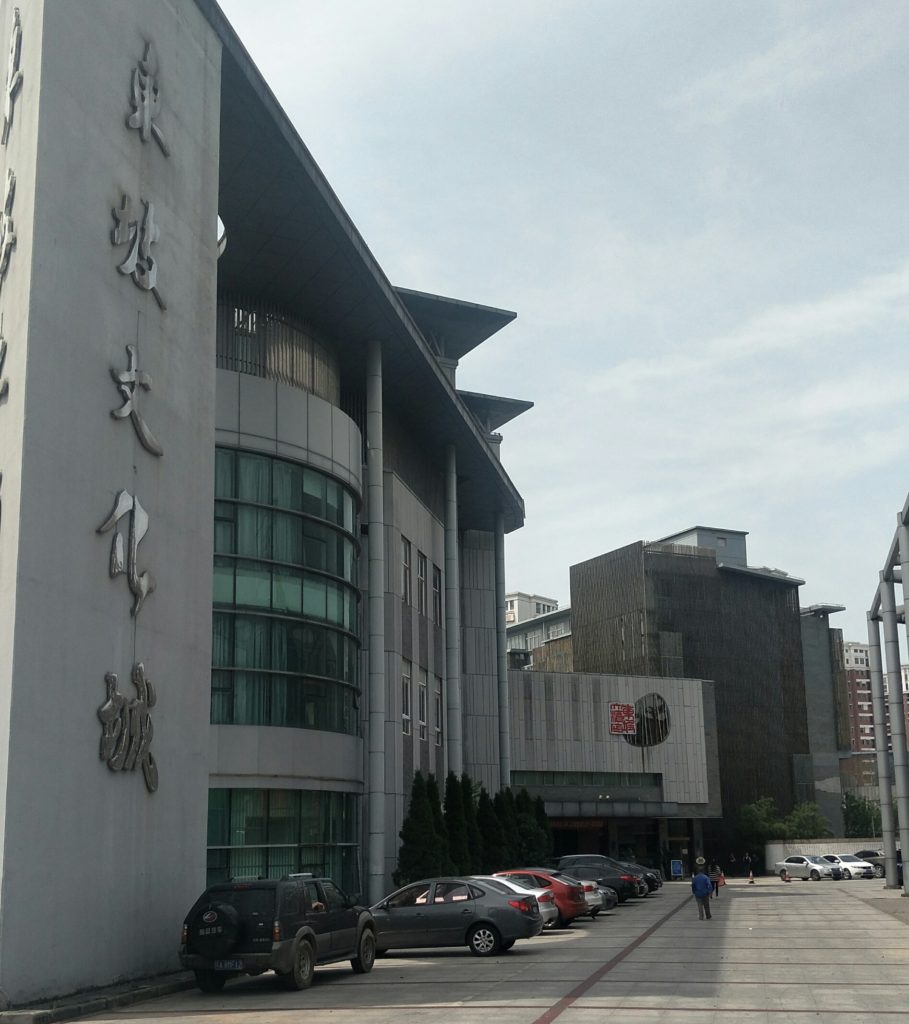 The place doesn't seem hardly used at all for it's originally stated purpose, and some if it actually seems empty. Curious, I texted a friend that actually lives in Xuejia and asked her about it. She also give me the gist of the article, but she also noted that it seems to be a weird thing to have, here. Xuejia didn't even exist when Su Dongpo was alive. She noted that the history of the town, much like that of Xinbei in general, is relatively short when compared to the rest of the city.
So, what was the article actually about? From what friends have told me, it was actually more of a written request sent to the emperor. He was asking for permission to live in Changzhou. I was told that this original request went ignored, and Su had to resort to writing a second request to live in this city. At times in his life, Su was an exiled imperial official — like most Chinese poets of antiquity were — and spent the most of his life traveling. Of course, he did end up living here. He eventually died here, too. So, it would make sense that even relatively new places in the city would erect some sort of cultural recognition that Changzhou people, to this day still, still consider him one of their own, even if he wasn't born here.
Here is the original text …
乞 常 州 居 住 表
臣 軾 言 。 臣 聞 聖 人 之 行 法 也 , 如 雷 霆 之 震 草 木 , 威 怒 雖 甚 , 而 歸 於 欲 其 生 ; 人 主 之 罪 人 也 , 如 父 母 之 譴 子 孫 , 鞭 撻 雖 嚴 , 而 不 忍 致 之 死 。 臣 漂 流 棄 物 , 枯 槁 餘 生 〔 一 〕 。 泣 血 書 詞 , 呼 天 請 命 。 願 回 日 月 之 照 , 一 明 葵 藿 之 心 。 此 言 朝 聞 , 夕 死 無 憾 。 臣 軾 誠 惶 誠 恐 , 頓 首 頓 首 。 臣 昔 者 嘗 對 便 殿 , 親 聞 德 音 。 似 蒙 聖 知 , 不 在 人 後 。 而 狂 狷 妄 發 , 上 負 恩 私 。 既 有 司 皆 以 為 可 誅 , 雖 明 主 不 得 而 獨 赦 。 一 從 吏 議 , 坐 廢 五 年 。 積 憂 薰 心 , 驚 齒 髮 之 先 變 ; 抱 恨 刻 骨 , 傷 皮 肉 之 僅 存 。 近 者 蒙 恩 量 移 汝 州 , 伏 讀 訓 詞 , 有 「 人 材 實 難 , 弗 忍 終 棄 」 之 語 。 豈 獨 知 免 於 縲 絏 , 亦 將 有 望 於 桑 榆 。 但 未 死 亡 , 終 見 天 日 。 豈 敢 復 以 遲 暮 為 歎 , 更 生 僥 覬 之 心 。 但 以 祿 廩 久 空 , 衣 食 不 繼 。 累 重 道 遠 , 不 免 舟 行 。 自 離 黃 州 , 風 濤 驚 恐 , 舉 家 重 病 , 一 子 喪 亡 。 今 雖 已 至 泗 州 , 而 資 用 罄 竭 , 去 汝 尚 遠 , 難 於 陸 行 。 無 屋 可 居 , 無 田 可 食 , 二 十 餘 口 , 不 知 所 歸 , 飢 寒 之 憂 , 近 在 朝 夕 。 與 其 強 顏 忍 恥 , 干 求 於 眾 人 ; 不 若 歸 命 投 誠 , 控 告 於 君 父 。 臣 有 薄 田 在 常 州 宜 興 縣 , 粗 給 饘 粥 , 欲 望 聖 慈 , 許 於 常 州 居 住 。 又 恐 罪 戾 至 重 , 未 可 聽 從 便 安 , 輒 敘 微 勞 , 庶 蒙 恩 貸 。 臣 先 任 徐 州 日 , 以 河 水 浸 城 , 幾 至 淪 陷 。 臣 日 夜 守 捍 , 偶 獲 安 全 , 曾 蒙 朝 廷 降 敕 獎 諭 。 又 嘗 選 用 沂 州 百 姓 程 棐 , 令 購 捕 凶 黨 , 致 獲 謀 反 妖 賊 李 鐸 、 郭 進 等 一 十 七 人 , 亦 蒙 聖 恩 保 明 放 罪 。 皆 臣 子 之 常 分 , 無 涓 埃 之 可 言 。 冒 昧 自 陳 , 出 於 窮 迫 。 庶 幾 因 緣 僥 倖 , 功 過 相 除 。 稍 出 羈 囚 , 得 從 所 便 。 重 念 臣 受 性 剛 褊 〔 二 〕 , 賦 命 奇 窮 。 既 獲 罪 於 天 , 天 無 助 於 下 。 怨 仇 交 積 , 罪 惡 橫 生 。 群 言 或 起 於 愛 憎 , 孤 忠 遂 陷 於 疑 似 。 中 雖 無 愧 , 不 敢 自 明 。 向 非 人 主 獨 賜 保 全 , 則 臣 之 微 生 豈 有 今 日 。 伏 惟 皇 帝 陛 下 , 聖 神 天 縱 , 文 武 生 知 。 得 天 下 之 英 才 , 已 全 三 樂 ; 躋 斯 民 於 仁 壽 , 不 棄 一 夫 。 勃 然 中 興 , 可 謂 盡 善 。 而 臣 抱 百 年 之 永 嘆 , 悼 一 飽 之 無 時 。 貧 病 交 攻 , 死 生 莫 保 。 雖 鳧 鴈 飛 集 , 何 足 計 於 江 湖 〔 三 〕 ; 而 犬 馬 蓋 帷 , 猶 有 求 於 君 父 〔 四 〕 。 敢 祈 仁 聖 , 少 賜 矜 憐 。 臣 見 一 面 前 去 , 至 南 京 以 來 , 聽 候 朝 旨 。 干 冒 天 威 , 臣 無 任 。