This post was originally posted in 2016.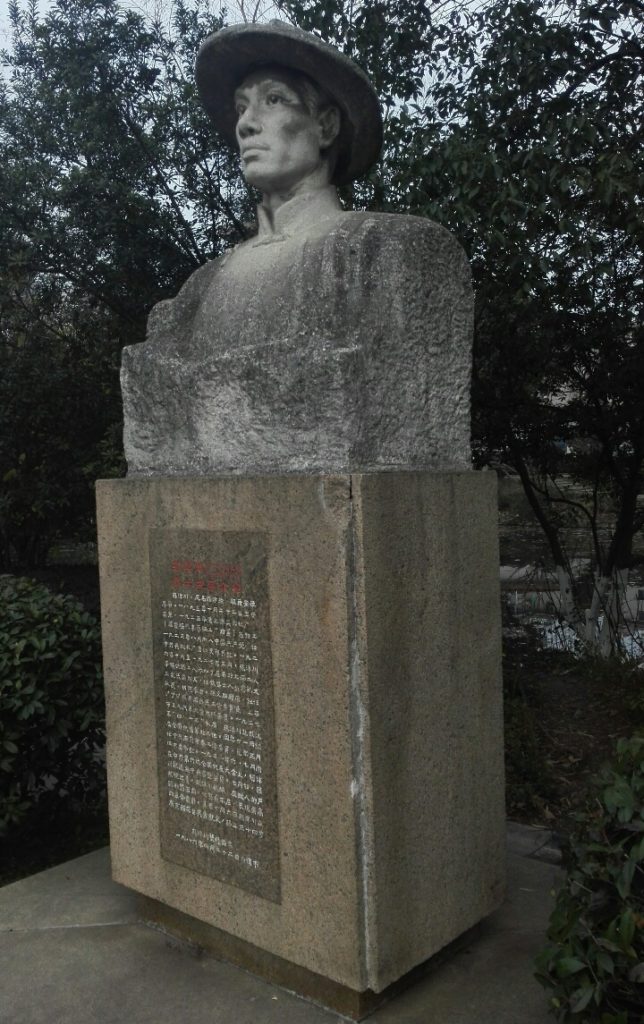 Chinese revolutionary monuments are sometimes difficult to find. Half the ones mentioned on Baidu maps are simply not there. I know because I've tried to find them and end up walking or riding in circles. Or wading through drainage ditches. Or looking at piles of garbage. So, it's always fascinating for me to find one that is actually where the map says it is.
It's in Huaxi Park 花溪公园 in the former Qishuyan district. The area within the park goes by the Martyrs Memorial Plaza 烈士纪念广场. The memorial itself contains two stone markers. One is of a more abstract shape, but the other is a bust Sun Jinchuan 孙津川. His life story, and the placement of his statue has an interesting correlation.
The railway industry is still a huge in Qishuyan, but it used to not always be that way. One of the big players was the Wusong Machinery Factory, who has since changed names several times. Before it relocated to Changzhou for national security reasons, the plant operated in Shanghai. At the time, the nationalist Koumintang ran the Chinese government. Underground communist organization and agitation was ongoing at the time.
This carried into trade unions like the Shanghai-Nanjing Railway Workers Association. Sun Jinchuan was elected into a leadership role within that union. He helped organize strikes and even armed action around the Wusong factory before it relocated to Changzhou. As the story goes, the KMT eventually arrested him and repeatedly tortured him for information. The official story goes on to say the Sun Jinchuan remained defiant up to the end in October of 1928, shouting CPC slogans and singing while being dragged to his execution.